Chalky the Clown

Description

Premiere Airdate
TBA
Premiere Episode
TBA
Original Network
Cartoon Network
Running Time
10 minutes per episode
Seasons
1
Episodes
10
Previous Series
None
Next Series
Chalky and the Superfriends!
Chalky the Clown is another incarnation of a fan-made Hanna-Barbera TV series. It was created by Kyle03.
Chalky the Clown is a 31 year old man who is a clown and cannot talk. He communicates by squeaking a horn. His best-friend is a fifteen year old boy called Bradley Comics. His other friends are Jenna Ace who is also fifteen and Matt Kiwi who is 21. Together the four become The Clown Act and solve mysteries all over the entire world!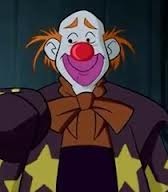 Chalky the Clown
Edit
Recurring Characters
Edit
Episode Guide
Edit
| # | Title | Premise | Release Date | Word Count | Writer |
| --- | --- | --- | --- | --- | --- |
Home media
Edit
| DVD Name | Episodes included from this series | Release Date |
| --- | --- | --- |